They blame it on the popularity of the 50 shades of grey book series, sales are up, and interest in sex toys from trojan vibrators to cuffs and rope has skyrocketed.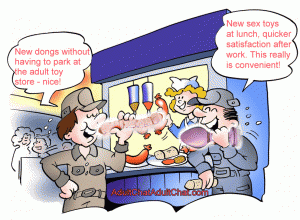 So much interest in fact, that Trojan was able to setup up pleasure carts in Manhattan recently and give away thousands of vibrators. The vibrator pleasure carts we attracting so much attention that they needed to be shut down temporarily and were directed to acquire special permits (as reported by sfgate / San Fransisco chronicle) – but then they were back on the street handing out new vibrations to all the adults who wanted to get their hands on them.
The article via SFGate describes sales and interest increases from hardware stores selling more rope to adult stores selling more vibrators. It seems that this book series with a BDSM / fetish theme has really taken off in more ways than just digital book sales (although it did just breach the 1 million digital copy sales mark at Amazon recently) [ Fifty Shades of Grey: Book One of the Fifty Shades Trilogy]- it appears that there is a 50 shades CD on the way, and all kinds of more mainstream companies are trying to cash in on the craze. There are even people talking about 50 shades of kitchen design themes.
Aside from those who are trying to make a quick buck by re-branding black granite counter top with white cabinets and stainless steel appliances, there may be some real good that comes from all this hype. I have not actually seen any of the adult toys that are being branded with the 50 shades official brand yet – but I hope that they are top quality, especially if they are bondage related. It drives me crazy to see some sex toy company take the cheapest made plastic crap from China, get a celebrity endorsement, plaster a name on it and try to sell it as "the Ron Jeremy approved penis pump".
One of the good things of having this book become so popular will be that mature discussions and more communication will certainly come into many relationships. Current and future relationships will benefit from more open discussions about the themes that are prominent in the 50 shades of grey books. It may be that there are many people who have had a strong interest in some aspects of BDSM play, and others that find their calling of living the true 24/7 lifestyle as some call it. At least having a mainstream book and some characters and situations to talk about will give people some points of reference to talk with their partners about things they may be interested in, or willing to learn more about / try. It could become a major change in their overall relationship, or it could bring about the discussion of adding a couple of things to spice up the occasional freaky Friday night.
I think overall it's a great thing when things are brought into the mainstream discussion. Maybe it won't be so taboo for adults to have and openly discuss sex toys and bondage cuffs in their bedrooms. Of course there are plenty of bad things that can occur when the masses decide they want to start playing with some of the dangerous aspects of BDSM – both physically and emotionally even. This is why I must suggest that you read more.
Also read: avoid dangers of jumping into 50 shades of bondage and submission